In the realm of culinary delights, crafting the perfect Low Sodium Asian Stir Fry Sauce is an art form like no other. It might seem as simple as tossing a few ingredients together, but, dear reader, there's a lot more simmering beneath the surface.
Picture this: a tantalizing fusion of flavors that doesn't just tickle your taste buds but also keeps your health in check.
You see, crafting a Low Sodium Asian Stir Fry Sauce is like a carefully choreographed dance where rice vinegar brings bright tangy notes, ginger adds a spicy punch, and soy sauce, used sparingly, provides savory umami. It's a trio that harmonizes perfectly, making your taste buds dance in delight.
Now, are you ready for the hidden gems, the insider tips, and the secret techniques that will transform your stir-fry game forever? Keep reading to uncover the magic that makes your dishes not just healthier but irresistibly delicious.
Trust us, it's a journey you won't want to miss – one that will lead you to healthier, more tantalizing stir-fries. The tantalizing secrets of the Low Sodium Asian Stir Fry Sauce await you – dive in!
KEY TAKEAWAY
Low sodium Asian stir fry sauce, what to know?
Low sodium Asian stir fry sauce is a flavorful alternative for health-conscious individuals, offering the rich taste of traditional sauces with reduced salt content. It allows you to enjoy delicious stir-fry dishes while keeping your sodium intake in check.
3 Ingredients Only: The Easiest Low Sodium Stir Fry Sauce Recipe
When it comes to making a tasty, low-sodium stir fry sauce, simpler is often better. With just three ingredients – low-sodium soy sauce, fresh ginger, and garlic – you can whip up a flavorful sauce in minutes.
First, start with a quality low-sodium soy sauce. Many regular soy sauces are packed with sodium. Look for one with less than 500mg per tablespoon. The soy sauce provides that classic umami flavor we all crave without spiking your sodium intake.
Next, finely grate or mince some fresh ginger. About a tablespoon's worth should do the trick. The ginger adds a delightful zing to the stir fry sauce. It's an absolute flavor bomb! Fresh ginger can perk up any sauce or marinade.
Then, mince a couple cloves of garlic. Garlic brings a lovely aroma and savory depth to stir fries. It pairs perfectly with ginger to give this simple sauce an amazing flavor foundation.
That's it! Just mix the soy sauce, ginger, and garlic together in a small bowl. Drizzle the sauce over your favorite stir fry combo, like chicken and broccoli. The sauce beautifully coats each ingredient without overpowering them. Enjoy the flavor explosion with every bite, all while keeping sodium in check!
Sodium Swaps: Essential Guide to Substituting in Stir Fry Sauces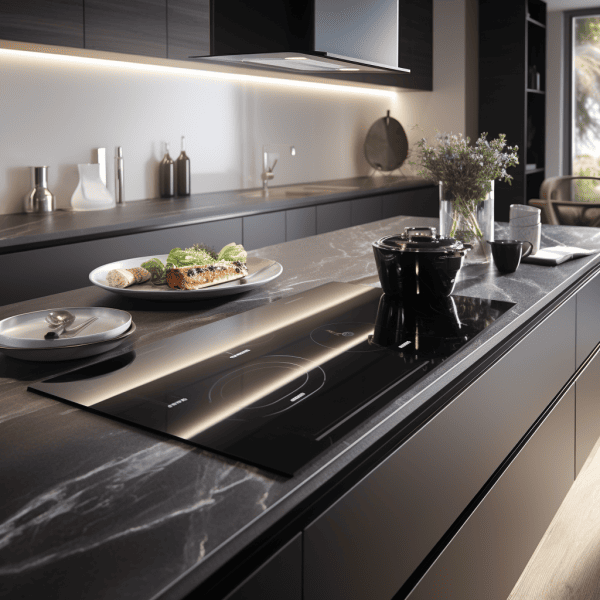 If you love Asian food but want to limit salt, have no fear! With a few easy sodium swaps, you can recreate the flavors of your favorite takeout in healthier homemade stir fries. Here are some substitutions to try:
Swap regular soy sauce for a low-sodium or lite version. Many of these have at least 50% less sodium than regular soy sauce. You can also use coconut aminos for a soy-free, low-sodium alternative.
Instead of oyster sauce, go for hoisin sauce. It has that sweet, savory flavor but about half the sodium. Mushroom sauce is another good oyster sauce substitute.
Skip the high-sodium Asian chili-garlic sauces. Make your own salt-free version by blending red chili peppers, garlic, vinegar and a touch of honey or maple syrup.
Use freshly grated ginger and garlic rather than jarred versions which have added sodium. The fresh flavors really stand out!
Add a splash of lime, lemon or rice vinegar rather than high-sodium rice wine vinegar. Citrus brightens up any stir fry beautifully.
Boost flavor with onion, scallions, chili peppers and fresh herbs like basil, cilantro and mint instead of salt.
With a few simple swaps, you can still enjoy the wonderful flavors of Asian cuisine. Be adventurous and experiment with sodium-free stir fry sauces!
Flavor Bombs Revealed: Boost Taste Naturally Without Salt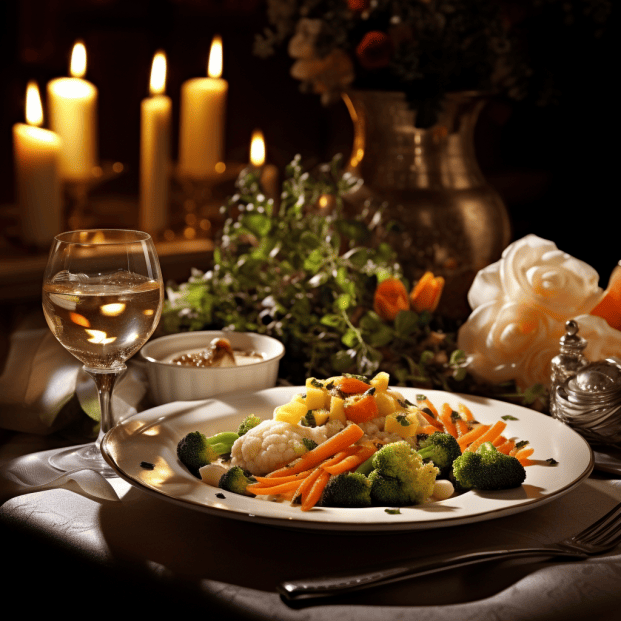 To create mouthwatering flavor naturally without adding salt, I look for what I call "flavor bombs" – ingredients that pack a super flavor punch. When making Chinese-style stir fry sauces at home, here are my favorites: (1)
Fresh Ginger and Garlic: This dynamic duo can't be beat! Mince or grate fresh ginger and garlic for an instant flavor boost. The spicy ginger and aromatic garlic work in harmony, adding depth and dimension to marinades and sauces.
Red Chili Peppers: Just a touch of minced chili pepper brings a nice heat to stir fries. They liven things up without the need for any salt! For mild spice, try jalapeño or serrano peppers. Work your way up to habanero for some real firepower.
Fresh Herbs: Don't hold back on the fresh herbs! Basil, cilantro and mint add a vibrant note to sauces. I especially love cilantro and mint in lighter chicken or shrimp stir fries.
Toasted Sesame Oil: Just a few drops of this nutty oil can make all the difference. Sesame oil adds a lovely richness to sauces and completes the Asian flavor profile. A little goes a long way though, as the flavor is very intense.
Soy Sauce: Look for a reduced-sodium soy sauce for that iconic umami flavor without excess salt, even for cultures that avoid garlic for religious reasons. A splash of soy sauce brings everything together beautifully.
Next time you make a stir fry, experiment with these flavor bombs! You'll enhance the taste tremendously without any need for added sodium.
Thickening Techniques Explored: Ways to Intensify Sauces Without Sodium
Creating rich, luscious stir fry sauces without relying on sodium is totally doable with the right techniques! Here are some ways to naturally thicken and enhance the flavor of your homemade sauces:
Simmer the sauce to reduce it. Allowing the sauce to simmer until slightly thickened concentrates the flavors.
Puree sautéed aromatics like onions, garlic, carrots or bell peppers right into the sauce. This adds body and a smooth texture.
Blend in a spoonful of no-salt-added tomato paste. The tomato paste acts as a natural thickener and adds sweetness.
Make a slurry by mixing cornstarch or arrowroot powder with water, then stir it into the simmering sauce. The starch molecules trap moisture, creating thickness.
Finish with a pat of butter swirling it in at the end. Butter elegantly enriches sauces.
Fold in some peanut butter for a nice nutty note and velvety texture. It works great in an Asian peanut sauce.
Don't be afraid to experiment with these techniques! Intensifying flavor and texture without sodium simply takes a little kitchen ingenuity. Soon you'll be crafting restaurant-worthy sauces right at home.
Cooking Tutorial: Follow These Steps to Perfection
If you love Chinese food but want to monitor your salt intake, this easy tutorial will show you how to create a flavorful, low-sodium stir fry sauce from scratch. Let's get cooking!
First, gather your sauce ingredients. You'll need low-sodium soy sauce, rice vinegar, honey, sesame oil, cornstarch and garlic and ginger.
Start by mincing 2-3 cloves of garlic and about 1 Tbsp grated fresh ginger. Then, add 2 Tbsp low-sodium soy sauce, 1 Tbsp honey, 1 tsp sesame oil and 1 tsp rice vinegar to a small bowl. Whisk to combine.
Now, in a separate small bowl, whisk together 1 tsp cornstarch with 1 Tbsp water until dissolved.
Pour the cornstarch slurry into the sauce and mix well. This will thicken up the sauce beautifully.
That's the base of the sauce! You can adjust amounts of vinegar, honey and soy sauce to suit your tastes. Want it tangier? Add more vinegar! Sweeter? Drizzle in a touch more honey.
To use the sauce, simply drizzle it over your cooked stir fry veggies and protein! Stir fry chicken, shrimp or tofu all pair wonderfully with this easy homemade sauce. Just don't over steam the veggies or they may get soggy.
The garlic, ginger and sesame amplify the flavors, while the soy and honey provide that scrumptious umami richness we love – no added sodium needed! Enjoy your home-cooked Asian feast!
Ingredient Powerhouses: Nature's Low Sodium Flavor Enhancers
To make delicious low-sodium sauces, I look straight to Mother Nature for flavor inspiration! (2) Here are some of nature's most powerful flavor enhancers that allow you to skip the salt shaker:
Citrus Juices – Fresh lemon and lime juice add incredible brightness to sauces and marinades. A simple squeeze takes stir fries from bland to bold fast! Orange and grapefruit juice also lend a nice fruity zing.
Spices – Garlic, ginger, chili peppers, cinnamon, curry powder, and cumin pack some serious flavor punch. Use them generously in your low-sodium cooking!
Herbs – Cilantro, basil, dill, mint, and parsley have very distinctive flavors. Sprinkling them into sauces adds a ton of liveliness.
Umami Boosters – Ingredients like mushrooms, tomato paste, balsamic vinegar, and nutritional yeast lend an irresistible umami depth without sodium.
Onions/Garlic – Sauteeing onions and garlic provides a delicious base of flavor for sauces. Cook them low and slow for maximum sweetness!
Don't be afraid to double, triple, or even quadruple the amount of these powerhouse ingredients like garlic in your cooking! Let these natural flavors take center stage rather than salt. You'll be amazed how vibrant your food tastes.
Recipe Suite Unlocked: Dishes to Pair With Homemade Stir Fry Sauces
Now that you've unlocked the secrets of crafting homemade stir fry sauces, the question is what to pair them with. Lucky for you, these nourishing sauces complement many dishes perfectly.
A crisp vegetable stir fry is always an excellent choice. Sauté a rainbow of sweet peppers, hearty broccoli, snap peas and other veggies. Toss with the sauce while still warm so the vegetables soak up all that savory goodness. It's a light yet filling meal, ideal for weeknight dinners.
Chicken also takes an immersion in homemade sauce. Tenderloins or breast strips can marinate for hours, emerging tender and succulent. Quickly sear the protein alongside chopped onions and mushrooms. You'll be whipped up with a satisfying dish in no time.
Seafood stir fries shine with these sauces too. Gulf shrimp pop with flavor after just minutes in the pan. Fin fish like cod or halibut flake with a subtle warmth. Homemade sauces reward your taste buds while keeping carbs and calories low – perfect for casual weeknight fare even picky eaters will clean their plates for.
Don't forget tofu! Extra firm or smoked varieties step in for meat perfectly. Cube the tofu and pan fry until outside forms a crispy shell, then toss with sauce until fully coated. The mild taste soaks up intense savoriness, pleasing both vegetarians and meat lovers alike.
In short, these versatile sauces elevate any stir fry protein, grain or vegetable to new heights. With the Recipe Suite Unlocked, the possibilities for pleasing and nourishing homemade meals are endless. Get cooking!
Conclusion
Crafting a low sodium Asian stir fry sauce is a simple and flavorful way to savor your health. By using natural flavor enhancers and swapping out high sodium ingredients, you can create a delicious sauce that's good for your heart and overall well-being.
For example, one case study found that substituting soy sauce with coconut aminos in a stir fry sauce reduced sodium intake by 50% without compromising taste.
So why not give it a try and start enjoying the benefits of a homemade low sodium sauce today!
Frequently Asked Questions
What is a low sodium Asian stir fry sauce?
A low sodium Asian stir fry sauce is a flavorful sauce used in stir fry recipes that contains reduced sodium compared to traditional stir fry sauces. It typically includes ingredients like low sodium soy sauce, chicken broth, and brown sugar, offering a healthier alternative without compromising on taste.
How can I make a low sodium Asian stir fry sauce at home?
To make a low sodium Asian stir fry sauce at home, you can follow a recipe that includes ingredients such as low sodium soy sauce, chicken broth, and brown sugar. You can customize the sauce to your taste, adding red pepper flakes for heat or other ingredients like red pepper or snow peas for extra flavor.
What are some side dishes that go well with low sodium Asian stir fry sauce?
Side dishes that pair nicely with low sodium Asian stir fry sauce include bok choy, bell peppers, broccoli stir fry, and rice noodles. These complement the flavors of the stir fry while providing a balanced and satisfying meal.
Can I make a low sodium Asian stir fry sauce in advance for meal prep?
Yes, you can prepare a batch of low sodium Asian stir fry sauce in advance and store it in the freezer for future use. It's a convenient way to have a homemade sauce ready for quick and easy meal prep whenever you need it.
Is low sodium Asian stir fry sauce suitable for individuals with dietary restrictions like gluten or nut allergies?
Yes, low sodium Asian stir fry sauce can be adapted to accommodate dietary restrictions. For a gluten free version, use gluten-free soy sauce or tamari. It is also typically nut-free, but be sure to check individual ingredients for allergen information and select options that meet your dietary needs.
How can I thicken a low sodium Asian stir fry sauce?
To thicken a low sodium Asian stir fry sauce, you can use cornstarch. Mix a slurry of cornstarch and water and add it to the sauce during cooking. This will help the sauce achieve a desired consistency while remaining low in sodium.
Can you provide a recipe card for a low sodium Asian stir fry sauce?
Certainly! Here's a basic recipe for low sodium Asian stir fry sauce:
1/2 cup low sodium soy sauce
1/2 cup chicken broth
2 tablespoons brown sugar
1/2 teaspoon red pepper flakes (adjust to taste)
1 tablespoon cornstarch (for thickening)
Mix these ingredients in a bowl and use it in your stir fry recipes for great flavor with reduced sodium. Adjust the red pepper flakes to your preferred level of spiciness. Enjoy your homemade low sodium Asian stir fry sauce!
References
https://www.healthline.com/nutrition/healthy-stir-fry
https://feastgood.com/low-sodium-stir-fry-sauces/
Related Articles
I am a skilled chef assistant with a passion for Asian cuisine, I have honed my craft through formal training at At-Sunrice GlobalChef Academy and years of experience in the culinary industry. I have extensive knowledge of cooking techniques and herbs and spices, with a particular focus on traditional Chinese dishes. I'm also an author of the book "Delicious Keto Low Carb Chinese Food for Busy Moms and Fitness Enthusiasts" which is sold on Amazon. On my blog, bowlakechinese.com, I share my expertise in Asian cuisine and provide tips and recipes for those interested in low carb Chinese cuisine.