Finding the perfect low-salt stir fry sauce may seem harder than decoding ancient hieroglyphics, but fret not! This ancient scholar has uncovered the secrets to whipping up flavorful Asian sauces without the salt (1).
While soy sauce and table salt are tasty, too much sodium can mummify your heart. But depriving your taste buds is no way to live! With my handy tips, you'll be sautéing succulent stir fries brimming with zest minus the salt.
From clever supermarket swaps to herbs that pop with gusto, you'll have plenty of options for jazzing up your wok. I've tasted them all – the good, the bad, and the mouth-puckering.
After years of trial and error, I've whipped up a collection of lip-smacking sauces that get my official ancient scroll of approval.
So grab your cleaver and get ready to cook up fast, flavorful stir fries that won't sacrifice your heart health.
My award-winning recipes will take your taste buds on an adventure, all without setting foot outside the kitchen. 
But beware – once you go low-sodium, you may never reach for the salt shaker again!
KEY TAKEAWAY
Low salt stir fry sauce UK, what to know?
Low Sodium Chicken Stir Fry Sauce is a healthier alternative to traditional stir fry sauces, offering a delicious blend of flavors with reduced salt content, promoting heart health and mindful eating. 
Its balanced taste enhances dishes, making it a popular choice for health-conscious home cooks seeking a flavorful, low-sodium option for their meals.
Make Flavorful Low Salt Stir Fry Sauces from Scratch in the UK
Ready to add oomph to your stir fries without overdoing it on sodium? Making your own sauces is the way to go. 
With the right ingredients, you can create lip-smacking flavors that will have everyone coming back for seconds and fresh ginger and zingy citrus.
Swap Sodium-Heavy Soy for Low-Sodium Soy
Not all soy sauces are created equal when it comes to salt content. Regular soy sauce packs a whopping 1000 mg of sodium per tablespoon. Yikes!
Opt for low-sodium soy sauce instead. Kikkoman's less sodium soy sauce has just 575 mg per tablespoon, so you can still get that rich, savory flavor without skyrocketing your salt intake. Look for it at most major supermarkets like Tesco or Sainsbury's.
Boost Flavor with Umami-Rich Ingredients
Skip the salt and let natural ingredients take your stir fries to the next taste level.
Garlic and ginger: These aromatics are must-haves. They add a punch of flavor without any added sodium.
Rice vinegar: Just a splash brightens up any sauce. The tang pairs perfectly with soy sauce.
Toasted sesame oil: A little goes a long way. Drizzle over finished stir fries for a nutty aroma.
Chili-garlic paste: This spicy blend adds a flavorful kick. Stir a teaspoon into sauces or marinades.
Finish with a Splash of Citrus
A squeeze of citrus juice right before serving gives stir fries a burst of freshness. Lemon, lime, orange – take your pick! The acidity enhances flavors and balances out the rich umami notes.
Flavor Your Rice
Don't forget the rice! Transform a basic grain into the perfect accompaniment with flavorings like ginger, garlic, or low-sodium broth. Or make coconut rice with light coconut milk for exotic fragrance and taste.
Healthy Low-Sodium Sauces to Try
With creativity and the right ingredients, the possibilities for homemade sauces are endless. Here are some tasty combinations to inspire your inner sauce wizard:
Ginger Scallion Sauce
1⁄4 cup low-sodium soy sauce
2 tablespoons rice vinegar
1 tablespoon sesame oil
2 tablespoons minced ginger
3 scallions, finely chopped
Sweet and Tangy Hoisin
1⁄4 cup hoisin sauce
2 tablespoons rice vinegar
1 teaspoon chili-garlic paste
1 teaspoon toasted sesame oil
Spicy Peanut Sauce
1/3 cup natural peanut butter
1 tablespoon ginger, minced
1-2 teaspoons sriracha
2 tablespoons lime juice
1⁄4 cup water
So ditch the salt and take your stir fry skills to new tasting heights! With my tips and tasty homemade sauces, you'll be dishing out healthy, craveable stir fries in no time.
Best Substitutes for Soy Sauce to Reduce Salt in UK Stir Fries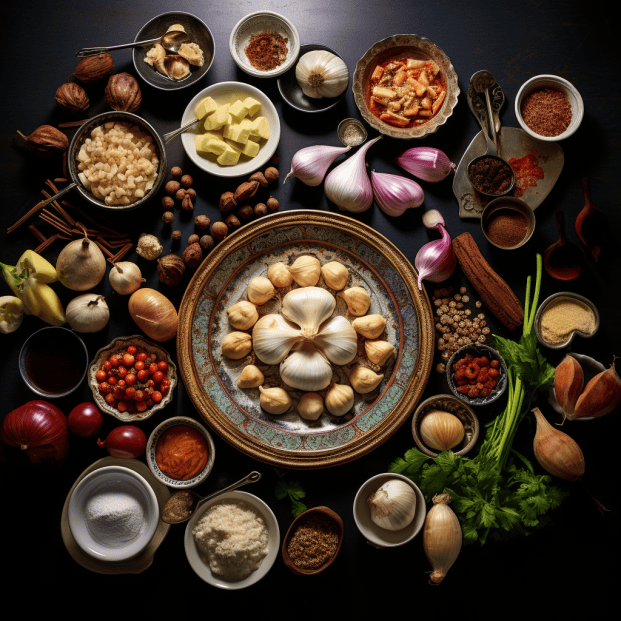 Soy sauce may be the MVP of stir fry sauces, but it typically packs a sodium punch. If you're trying to cut back on salt but still want those delicious umami flavors, try these clever soy sauce swaps:
Tamari – A Gluten-Free All Star
My favorite soy sauce substitute is tamari. It's made from fermented soybeans like soy sauce, but contains little to no wheat. This makes it safe for those avoiding gluten.
Tamari has a rich, savory taste very similar to soy. Use it as a 1:1 swap in stir fry sauces. Look for San-J's organic tamari at Holland & Barrett or in the Asian foods section of supermarkets.
Coconut Aminos – A Tropical Twist
For a sweet and tangy flavor, use coconut aminos. It's made from coconut tree sap, lending a subtle coconut flavor. With 65% less sodium than soy sauce, it's a stellar salt-cutting choice.
Stir 2 tablespoons into stir fries or use as a marinade for meats and veggies. Find coconut aminos at health food shops or online retailers.
Miso Paste – Umami Powerhouse
Made from fermented soy, miso paste packs a tasty umami punch. Whisk a teaspoon at a time into your stir fry sauce until the flavor pops. Be careful not to boil miso or you'll kill the good fermented enzymes.
Look for miso paste in the refrigerated section with other Asian ingredients at the grocery store.
Sweeten Sauces with Honey or Maple Syrup
For added flavor in low-sodium sauces, add a touch of sweetness with honey, maple syrup or brown sugar. This balances out any acidic ingredients.
Start with 1 teaspoon and adjust until you achieve the desired taste. Just don't overdo it on the sugar!
Make a Big Batch
Once you've created your perfect custom low-sodium stir fry sauce, whip up a big batch to have on hand anytime.
Store extra sauce in an airtight container in the fridge for up to 2 weeks. Then just scoop out what you need to quickly sauté up saucy, savory stir fries anytime the craving strikes.
With smart soy sauce swaps and a little creativity, you can reduce salt while pumping up flavor. Try tamari, coconut aminos, miso and more to make your own craveable concoctions. Your taste buds will rejoice!
Salt-Free Spices and Herbs to Flavor UK Stir Fries Minus Sodium
Creating flavorful, low-sodium stir fries is an art. With the right herbs and spices, you can make your taste buds sing without adding even a pinch of salt. Let me share my secret weapons for salt-free stir fry greatness:
Garlic Powder and Black Pepper – A Dynamic Duo
This classic pairing never fails. Garlic powder provides a savory, aromatic backbone while black pepper adds a bit of spicy zing. Just a sprinkle of each enhances any combo of veggies and protein.
Start with 1⁄4 teaspoon garlic powder and 1⁄8 teaspoon black pepper. Tweak amounts to your taste. Try garlic salt-free seasoning blends like Spice Hunter's No Salt Garlic for even more flavor.
Turmeric – A Golden Goddess
Need a sunshiney hue for your stir fry? Turmeric is your girl. This fragrant yellow spice has a mild, earthy taste that jazzes up rice or veggies beautifully.
Stir in just a pinch at a time until you achieve the ideal intensity. Partner turmeric with ginger and black pepper to activate its health benefits.
Smoky Cumin Seeds – A Nutty Necessity
Cumin is one of my go-tos for stir fries, especially with chicken. Lightly toast the seeds to bring out cumin's distinctive smoky flavor before grinding.
Start with 1⁄4 teaspoon ground cumin, adding more if desired. It gives a wonderful warmth without overpowering other ingredients.
Sweet or Smoky Paprika – For Added Depth
Paprika may seem humble, but it can really amplify flavor. The sweet variety has a mild peppery taste, while smoked paprika has a more robust woodsy flavor.
Use about 1⁄4 teaspoon in your stir fry sauce or sprinkle over veggies just before serving. A little paprika goes a long way!
Herbs Provide Fresh Finish
Right before serving, sprinkle on some fresh basil, cilantro or mint leaves. Their bright, aromatic essence enhances any stir fry beautifully. What a perfect salt-free final touch!
With smart spicing and herb sprinkling, you can craft low-sodium stir fries that are still lip-smacking. Master these salt-free secrets and you'll never miss the salt shaker again!
Satisfy Your Taste Buds with These Delicious Low Salt UK Sauces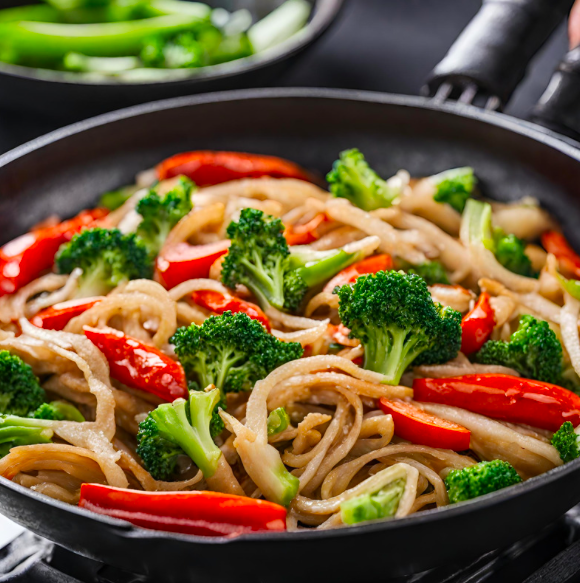 Craving flavorful stir fries without the salt overload? Have no fear – with these tasty low-sodium sauces, you can sizzle up succulent wok dishes while sticking to a heart-healthy diet. So ditch the store-bought bottles and get ready to wow your taste buds!
1. Zingy Low-Salt Stir Fry Sauce
This homemade blend packs a double punch of ginger and garlic with the pleasant kick of red pepper flakes. Soy sauce adds rich umami flavor without going overboard on sodium. I love it with chicken and crunchy veggies!
2 tablespoons low-sodium soy sauce
1 tablespoon rice vinegar
1 teaspoon sesame oil
1 tablespoon minced ginger
2 garlic cloves, minced
1⁄4 teaspoon red pepper flakes
2. Savory Low-Salt Teriyaki
Get that sweet and slightly sticky teriyaki taste minus all the salt with this easy sauce. Honey balances the tang of rice vinegar, while garlic and ginger provide aromatic flavor. Brush on salmon or chicken for an instant upgrade!
1⁄4 cup low-sodium soy sauce
3 tablespoons honey
2 tablespoons rice vinegar
1 teaspoon minced ginger
1 garlic clove, minced
3. Spicy Low-Salt Chili Sauce
This sauce really turns up the heat without relying on salt for flavor. Chili garlic paste, sriracha and red pepper flakes deliver fiery flavor, while rice vinegar and touch of honey round it out. Use sparingly on meat and veggies if you can't handle the heat!
2 tablespoons rice vinegar
1 tablespoon sriracha
1 teaspoon chili garlic paste
1⁄2 teaspoon red pepper flakes
1 teaspoon honey
4. Fresh Low-Salt Ginger Garlic Sauce
Bursting with bright ginger and garlicky goodness, this sauce adds a refreshing zing to any dish. Lime juice gives it tanginess while arrowroot powder thickens it up. I love it drizzled over chicken or used as a veggie dip!
1⁄4 cup lime juice
2 tablespoons minced ginger
2 garlic cloves, minced
1 tablespoon arrowroot powder
2 tablespoons water
5. Sweet and Tangy Hoisin Sauce
For a kid-friendly sauce, mix up this quick hoisin substitute. It has the familiar sweetness of hoisin with a milder salty-sour profile. Delicious drizzled over stir fries or used as a dip for spring rolls.
1⁄4 cup plum sauce
2 tablespoons rice vinegar
1 teaspoon minced ginger
1 garlic clove, minced
1⁄2 teaspoon chili-garlic paste
With these craveable sauces in your arsenal, you can cut sodium without sacrificing an ounce of flavor. Now go get wokin' up some drool-worthy stir fries!
Find Low Sodium Versions of Stir Fry Staples at UK Supermarkets
Whipping up tasty stir fries is a cinch with the right low-salt sauces. Luckily, UK supermarkets are stocked with flavorful options to help you cut back on sodium without sacrificing taste. Here are some of my go-to finds:
Look for Reduced Sodium Soy Sauce
A dash of soy sauce adds that quintessential umami flair. But regular soy sauce is sky-high in sodium. Opt for reduced sodium soy like Kikkoman's Less Salt Soy Sauce to get the same savory flavor with nearly half the salt.
Try Tangy Low Salt Teriyaki
Teriyaki sauce is a stir fry staple, but most bottles are loaded with sodium. Make your own healthier version with low salt teriyaki from Blue Dragon. It has 75% less sodium than regular teriyaki but all the sweet, sticky flavor.
Savor No Added Salt Oyster Sauce
Oyster sauce provides the ideal savory richness in stir fries. Lee Kum Kee makes a no added salt version that lets the natural flavor of oyster extract shine through without pumping up the sodium.
Choose a Reduced Salt Hoisin Sauce
With its sweet, smoky and slightly spicy essence, hoisin sauce can really make a stir fry pop. For less sodium look for reduced salt hoisin like Gold Medal's 33% less salt hoisin.
Now you can sauté up lip-smacking stir fries brimming with flavor using low-sodium versions of all your favorite sauces. With smart swaps you don't have to sacrifice taste or heart health!
3 Simple Ways to Lower Salt in Stir Fry Dinners
Even with low-sodium sauces, you can take stir fries to an even healthier level:
1. Load Up on Fresh Veggies
Fill your wok with a rainbow of crisp veggies like bell peppers, broccoli, snap peas and bean sprouts. Let their fresh flavors shine through.
2. Use Lower Sodium Marinades
Skip salty bottled marinades and make easy low-sodium versions to flavor meat and tofu. Combine ginger, garlic, vinegar and spice blends.
3. Boost Flavor with Citrus and Herbs
Right before serving, spritz stir fries with a little lemon or lime juice. Sprinkle on cilantro, basil or mint for freshness.
With a few easy tweaks, you can enjoy all the satisfying flavor of stir fry without excess sodium weighing down your meal.
4 Simple Steps to Lower Salt Intake With UK Stir Fry Dinners
Stir fries are fast, easy, and delicious – but soy sauce and other high-sodium sauces can turn a simple dinner into a salt bomb. Luckily, with a few easy tweaks, you can keep enjoying flavorful stir fries without derailing your health goals. Let me share my simple salt-slashing secrets:
Swap Regular Soy Sauce for Low-Sodium Soy
Soy sauce is a stir fry staple, but the regular stuff has a whopping 1000mg of sodium per tablespoon. Yowza!
Opt for reduced sodium soy sauce instead. Kikkoman's Less Salt Soy Sauce has about 40% less sodium than regular soy but all the rich, savory umami taste you love.
Try Tamari for a Gluten-Free Option
For a soy sauce alternative, use tamari. It's made with fermented soybeans but contains little to no wheat, making it gluten-free. Tamari has a similar hearty flavor profile to soy sauce.
Look for San-J Organic Tamari in the international aisle of your grocery store or at health food shops.
Use Coconut Aminos for a Tropical Twist
Coconut aminos packs plenty of flavor with only a third of the sodium of soy sauce. It has a subtle natural sweetness from coconut that pairs deliciously with stir fry veggies.
Find coconut aminos at Holland & Barrett or online from websites like Amazon.
Amp Up Flavor with Citrus and Herbs
Right before serving, spritz your stir fry with a little lemon or lime juice. This brightens flavors cleanly without adding salt.
Also sprinkle on some fresh basil, cilantro or mint leaves for a refreshing pop of flavor.
With a few easy ingredient swaps, you can still enjoy the mouthwatering Asian flavors of stir fry while being kind to your heart and health. Now get wokin'!
Key Information on Low Salt Stir Fries in the UK
If you're scratching your head about finding tasty low-salt stir fry sauces in the UK, allow me to enlighten you! I've done my homework and can confirm there are plenty of flavorful options to help you keep sodium in check.
Flavor Isn't Sacrificed
I used to think low-salt sauces had to be bland and boring. Boy, was I wrong! Many brands pack a flavor punch by artfully combining herbs, spices, vinegars and natural flavorings instead of relying solely on salt.
Lee Kum Kee's low-sodium stir fry sauces win my personal seal of approval. They have just the right balance of savory, sweet and tangy notes without tasting flat or salty.
Wide Availability in Supermarkets
Gone are the days of hunting high and low for these elusive sauces! Most major supermarkets like Tesco, Sainsbury's and Asda now stock a selection of low-sodium stir fry sauces.
Check the condiment aisles for brands like Blue Dragon, Maggi and Soy Vay. You can also find them alongside Asian foods or in specialty diet sections.
Options for All Dietary Needs
Whether you avoid gluten, are vegan or have other dietary specifications, you'll find a sauce to suit your needs. Tamari is a gluten-free alternative to soy sauce. Coconut Secret makes vegan stir fry sauces.
Read labels carefully if food sensitivities are a concern. Many list potential allergens like wheat, soy and shellfish.
Easy to Use Just Like Regular Sauces
Using low-salt sauces is a cinch! Simply stir fry your ingredients as usual, then add sauce toward the end to coat everything in finger-licking flavor.
Start with 2-3 tablespoons and adjust amounts to your taste preference. Now you can sizzle up restaurant-worthy stir fries in your own kitchen!
With this intel in your back pocket, you can shop smart and enjoy flavorful low-sodium stir fries anytime. Now get wokin'!
Common Questions
What is the best homemade stir fry sauce recipe for low sodium?
To make a tasty homemade stir fry sauce with less sodium, try using low-sodium soy sauce or tamari combined with rice vinegar, garlic, ginger, honey, and chili-garlic paste. You can control the amount of salt by making it yourself.
Can you make a stir fry sauce without soy sauce?
Yes, you can make great stir fry sauces without soy sauce. Good soy sauce substitutes include coconut aminos, balsamic or rice vinegar, miso paste, and salt-free seasoning blends.
What ingredients thicken a stir fry sauce?
Cornstarch and arrowroot powder help thicken low-sodium stir fry sauces naturally. For 1 cup of sauce, mix 1 tablespoon of cornstarch with 2 tablespoons cold water, then add to simmering sauce.
How can I flavor brown rice for a stir fry meal?
Cook the rice in low-sodium vegetable or chicken broth instead of water. You can also add minced garlic, grated ginger, lime zest, chopped cilantro, or a splash of rice vinegar to the rice as it cooks for extra flavor.
What quick veggie side dishes go well with low salt stir fries?
Fresh green beans, steamed broccoli, sauteed snow peas, baby corn, or bok choy are all tasty low-sodium veggie sides that pair nicely with healthy stir fry meals.
Can you freeze extra low sodium stir fry sauce?
Yes, portion extra homemade low-sodium stir fry sauce (2) into airtight containers and freeze for up to 3 months. Thaw in the refrigerator before using again.
How can I make teriyaki sauce lower in sodium?
Use low-sodium soy sauce and skip added salt. You can also cut sodium by swapping in equal parts pineapple juice or apple cider vinegar for some of the soy sauce.
How much sauce do you need for 1 serving of a stir fry?
A good rule of thumb is 2 to 3 tablespoons of sauce per serving of stir fry. Play it safe and make extra sauce, as you can always refrigerate or freeze the leftovers.
What's a simple hot sauce to make for stir fries?
Mix sriracha and rice vinegar to taste for a fast hot sauce. Or purée hot chilies, garlic, vinegar, and a pinch of salt in a blender for an easy homemade chili sauce.
Can you make stir fry sauce without cornstarch?
Yes, you can thicken sauce instead with arrowroot powder, tapioca starch, ground nuts or reduced juices. Or make an all-broth based sauce using soy sauce, vinegar and ginger with no thickener.
Conclusion
After all my years wokin' up flavorful low-salt stir fries, I've learned a thing or two about crafting craveable sauces without the salt overload. 
It just takes a few simple swaps and seasoning secrets to pump up taste while keeping sodium in check.
With my handy tips like using reduced sodium soy sauce, spice rubs packed with herbs and citrus, and easy sauce recipes made for your health, you can become a lean, mean, salt-slashing stir fry machine! 
Ditch those high-sodium bottled sauces and tap into nourishing, homemade flavors that don't compromise on taste.
Trust me, once you experience the joys of stir frying with my low-salt sauce sensations, you'll never reach for that salt shaker again. Your taste buds and your heart will thank you.
So go ahead – get wokin', get creative, and treat yourself to healthy, homemade stir fries bursting with flavor. 
With my secrets, you've got all the tools you need to start rockin' low-sodium cuisine that satisfies. The wok world awaits!
References
Related Articles
I am a skilled chef assistant with a passion for Asian cuisine, I have honed my craft through formal training at At-Sunrice GlobalChef Academy and years of experience in the culinary industry. I have extensive knowledge of cooking techniques and herbs and spices, with a particular focus on traditional Chinese dishes. I'm also an author of the book "Delicious Keto Low Carb Chinese Food for Busy Moms and Fitness Enthusiasts" which is sold on Amazon. On my blog, bowlakechinese.com, I share my expertise in Asian cuisine and provide tips and recipes for those interested in low carb Chinese cuisine.